The company has put in place an ERP system implemented using advanced Business Process Management (BPM) technology, AXPERT, which does not require time-consuming, elaborate and lengthy software coding. This technology allows the company to customize its enterprise application 100% based on exact functional requirements. The ERP system that has been implemented covers functional areas such as sales, purchase, production, finance & accounts, logistics, assets, HR and admin.
The ERP system runs on the enterprise edition of Oracle Database installed in a Microsoft technology environment that consists of Microsoft OS, Application and Web Server. The system software, database and applications are loaded on state-of-the-art advanced DELL servers. The corporate LAN is protected by advanced SONIC firewall and the external access is governed by 256 bit SSL encryption. The corporate LAN is exposed to the internet cloud using a 2 Mbps dedicated leased line supported by additional 3 Mbps broadband connectivity.
The following picture depicts the IT infrastructure that is currently in operation within the company.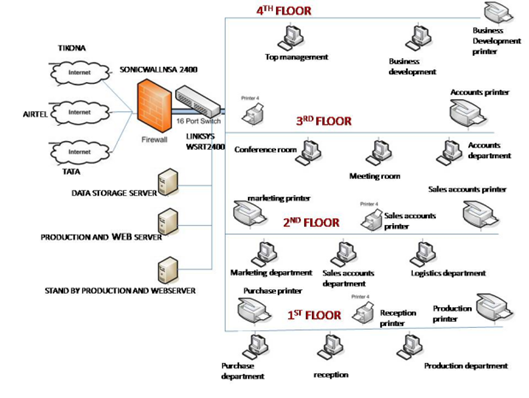 At MPIIPL, there is big thrust on enhancing research and development activities covering various areas such as innovations in concrete mix design, production process, industrial automation, effluent treatment, environment friendly practices, material handling system for logistics, energy saving, statistical quality control and others.
A dedicated team is assigned to undertake various research projects aimed at manufacturing of high quality end products at optimum production rate and with overall cost-effectiveness. The R&D division is equipped with various equipment and tools for conducting advanced research activities.
The company is currently working on improving on the production process by switching to pallet circulation system from the current fixed-bed production system. In the fixed bed system, all the production resources and activities are carried out over the fixed bed mould boxes while in the circulation system it is the pallet goes from one work centre to another cyclically. The new pallet circulation system, in prototype version, is successfully implemented and trial production are being done.
Manchukonda Industries Plant Tour